The Block and Black Colt. Plus new prints released!
A couple of weeks ago I was in Melbourne and was looking at different stockists for Black Colt. I am proud to tell you that we have made a fabulous alliance with The Block Shop and online store. This includes a gallery offering 12 framed prints that will evolve and change over time. Another great experience was visiting the pop up shop in St Kilda, opposite this season's site the infamous Gatwick Hotel and seeing the team behind the scenes of all things design. It was great to meet the design team and see the beautiful and incredibly varied design pieces represented in store.
With interiors creative Danielle at the helm, the pop up store has brought a huge splash of class and colour to Fitzroy St , St Kilda. Not only can contestants drop in for inspiration, a coffee and a chat, but locals too. And they are loving the facelift given to a once quite colourful strip in St Kilda's history.
Read The Block Shop's latest blog and introduction to the store on Fitzroy St, St Kilda.
We were also lucky to have one of our framed prints chosen for the store. Thanks so much to Diana (printer extraordinaire) and Martine Leete from Your Framer who magically managed to get a large b/w piece in store virtually overnight (with Martine driving it to the store in person from The Mornington Peninsula). It was the week the Block were filming bedrooms. Can't wait to see what happened when the show airs...
Other news is that we have updated our website at Black Colt Photography with a few new pieces including a photomontage "FLOWER FILLY" and one piece of our foals range for children's bedrooms "BABY FACE". Custom coloured frames are available that are perfect for kids' bedrooms. "BABY FACE" is one of a series of 10 foal images that will be slowly rolled out soon with the option of a diptych or triptych on the wall.
One of our more abstract foals is now in print and is part of the Magnolia and ponies collage series. More to come.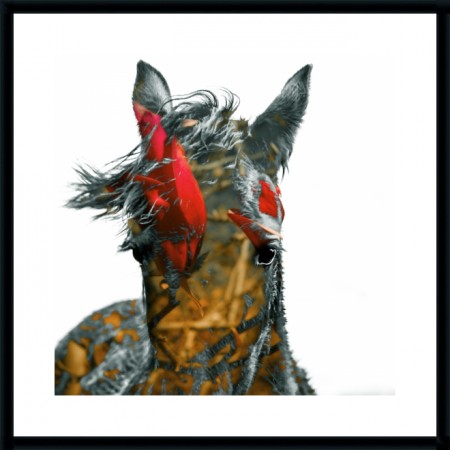 FLOWER FILLY - One of the new prints, fresh off the press with frame options in black, white and natural with a 60mm mount. Limited edition of 25 only in each size.